At Akron we organize a variety of events from concerts to fashion events and other business activities.
Choè – Candle light your Night
Choè – Handpoured and handame Greek products Soundtrack by Filippos Sgouros
Read more.
Every Saturday – Set by Filippos Sgouros
Every Saturday Set by Filippos Sgouros
Read more.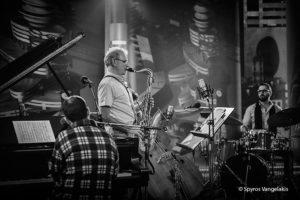 Dimos Dimitriadis "Jazz Wednesday Night"
Dimos Dimitriadis quartet Ioannis Goudelis piano Andres Alaru bass Panagiotis Themas drums Live Jazz, reservations preferable.
Read more.
Wine tasting evening with Theopetra estate
Organization: Winery Distilling Tsilli and Akron Beach Bar. On Sunday 1st of July at 20.00, Akron Bar & Restaurant in
Read more.
Food and wine experience with semeli wines
Time: 20:00 | We invite you to enjoy the Semele wines and a 5-course menu from chef Costas Souerev.
Read more.
Try our fresh fruit and vegetable juices
Vitamin Bar – 100% fresh natural juice. Made with with seasonal fruits and vegetables.
Read more.
Live jazz friday, Dimos Dimitriadis | Time: 21:00
Read more.
A tribute to world music
06 JUN 2015, SATURDAY – 2 pm –
Read more.
Live Jazz night
Jazz fridays with Dimos Dimitriadis quartet 2 – 9 – 16 August
Read more.
GREEK LANGUAGE COURSES IN CORFU
Dialogue offers intensive courses for adults wanting to learn Greek, or improve their existing level of Greek. http://dialogue.gr
Read more.